Our laboratories undertake on-site and laboratory based sampling and testing of bituminous materials during new construction and re-surfacing projects. We also perform investigative works to include coring / sampling and in-situ density testing of existing materials.
Accredited Asphalt Testing Services
We have a highly responsive team of trained technicians working 24/7 undertaking onsite non-destructive testing using the latest technology and sampling methods in accordance with our UKAS Accredited procedures. Our well-equipped laboratory performs analysis of samples for compaction and composition for both compliance and investigative purposes. Once tested, you will have a full range of information and can rest assured the asphalt you are using is up to the required standards for your project.
The range of services include:
In-Situ Compaction Assessment
Monitoring of Laying Operations
Bulk & Maximum Density of cores and loose samples
Surface Macrotexture
Surface Irregularities
Coring
Composition Analysis
Descriptive Photo Logs
If you have a project that requires asphalt testing services, get in touch with us for expert, impartial advice.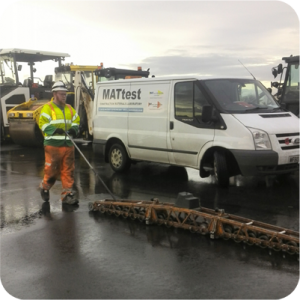 Using the latest technology and with a comprehensive range of equipment we provide a 24/7 responsive service for sampling and testing of asphalt operating to current standards or specific clients requirements.

Ensure peace of mind for quality and compliance using our range of site and laboratory concrete testing services to include cube making, testing and coring of hardened concrete

Our comprehensive aggregate testing capabilities assist with quality assurance for civil engineering and building projects for contractors, project manager, owners and product manufacturers.

We provide site based and laboratory soil testing for projects of all sizes to assist with project compliance and for investigative purposes.

MATtest undertakes sampling, testing and inspection for structural surveys using state of the art equipment and technologies across the UK.

Need testing assistance with your project, get in touch with us today to discuss how we can help you.